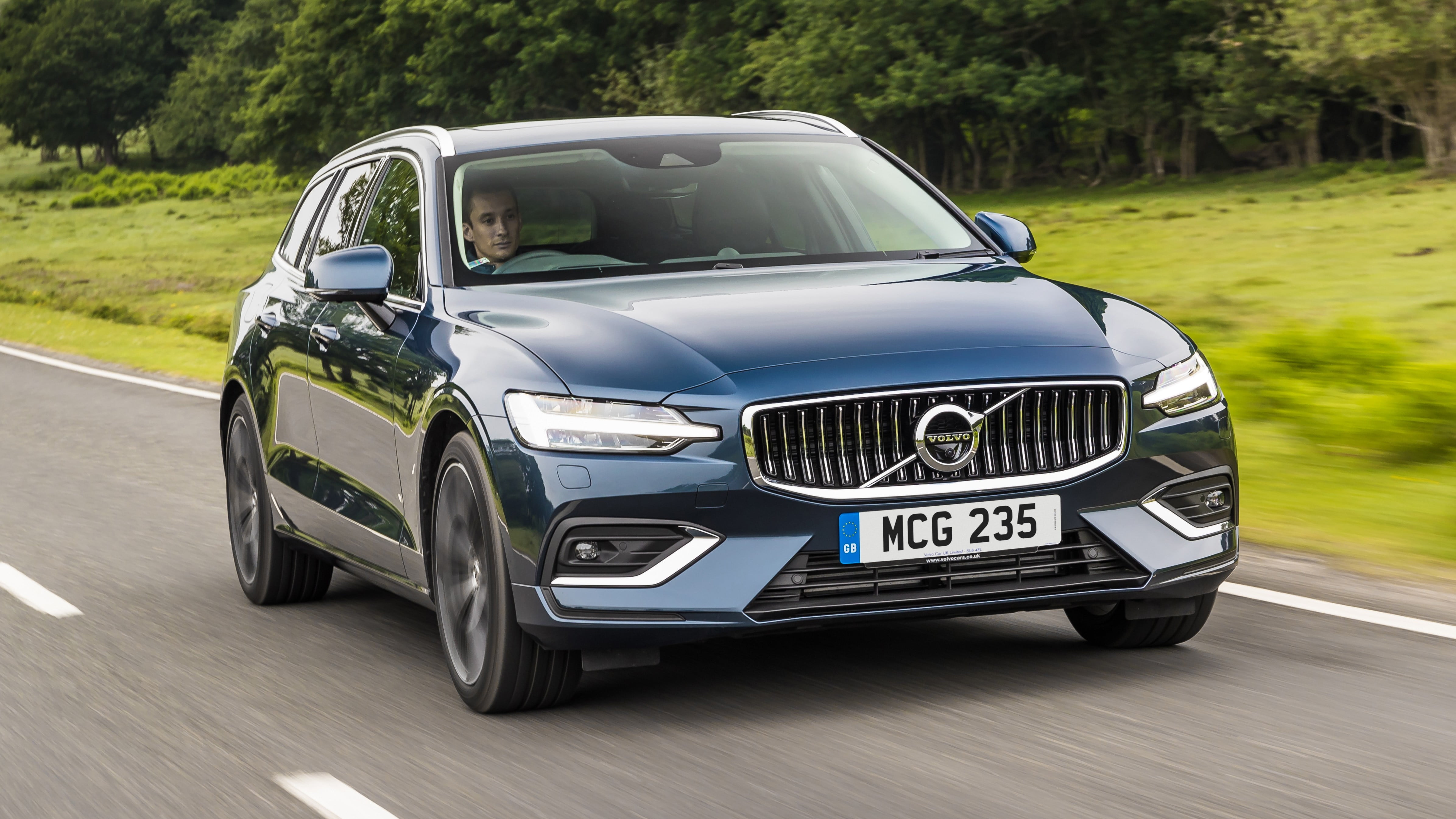 It looks like a stumpy V90. Or is it a V90? They all look the same!
There comes a point where a strong family resemblance becomes cut-and-paste styling, but even though the V60 looks very much like the V90, there's lots of differences – you just need to park them together to really see them. This is definitely a case of having a clear style and aesthetic across the range, knowing it works, and implementing it well, though. In our opinion. Kind of complicated-but-not, so we'll start with the basics. The V60 is the second of the mid-sized Volvo '60' vehicles (after the XC60 SUV) that follow the full-size '90' variants. They're all on the same Volvo Scaleable Product Architecture platform (SPA), and feature a lot of the same tech and motivation. So what we have in the V60 is a mid-sized estate car that starts at £31,810 in the UK, initially featuring a range of engines suitable for the daily grind. That means a choice of three 2.0-litre four-pots, two diesels (150bhp D3 and 190bhp D4) and a petrol T5 with 250bhp. Combined fuel consumption figures on the official cycle are 64.2, 64 dead  – both 117g/km – and 43.7mpg respectively, and all are front-wheel drive with a choice of six-speed manual or eight-speed auto (standard in the T5).Later, we'll get a pair of petrol-electric plug-in Twin Engine hybrids and a second petrol engine, tougher-looking R-Design models and an all-wheel drive, slightly raised Cross Country. Still with us? Good, because the V60 really is a very nice bit of kit. Yes, some people might complain that it looks like a scaled-down V90, but – as previously mentioned – there's absolutely nothing wrong with that, and the V60 has been sympathetically shortened, with plenty of detail changes, including less rake to the rear windscreen and different headlights that sweep wider (still featuring the 'Thor's Hammer' graphic though, which is nice).
There's a deeply satisfying Scandinavian form to the whole thing that means it's not particularly flashy, but it is handsome and remarkably subtle. It's also a very handy size for most daily operations, small enough in town, with a decent boot (520-litres to the top of the rear backrest, 1,364-litres with the seats folded) for carrying the detritus of modern life. You'll get kids/dogs/luggage and gear in here without a problem, and you don't sacrifice the clean, swept-back look. It's a definite grower, too, seeing as the subtleties mature the more you look at it. It's a sweet spot for usefulness versus size in our cluttered UK – as sales of the BMW 3 Series Touring will attest.  Yeah, so it looks pretty good – how about driving one in the UK?Here's where Volvo have come on in leaps and bounds in the past few years, and the V60 continues the advance of non-soggy Volvos. We tried the higher-powered D4 diesel with 190bhp and 295lb ft, the only slightly hesitant eight-speed auto and optional 'Four C' electronic damper control, and it really is a pleasant balance between fast and firm enough, without veering too far to any extreme. As with the other cars, the V60 features a double wishbone front suspension with Volvo's own 'integral link' set up at the back, and in default 'Comfort' mode it's just the right side of firm to get down a bad British B-road without becoming annoying.Body control is exemplary, and the car doesn't get punted around by potholes or wonky cambers. Responses are neat and linear to all of the control surfaces, and the engine has plenty of power from the easy reaches of the rev-range. And although this is not a hectic car, if you need to chivvy it along, it's more than capable of going somewhere quickly – and it never feels particularly big. Four-corner air suspension is an option, and we'd like to try that to see if it can offer a bit more breadth. There's a rotary control in the centre console that can switch to a triplet of presets for the engine, 'box, steering, brakes, stability control and engine stop/start function (along with a driver 'Individual' function), but to be honest, 'Comfort' is the best compromise. Sport just makes the steering feel artificially heavy and the engine hold gears when not strictly necessary, Eco just damps everything with automotive Valium. Leave it in the Goldilocks setting and everything comes together – it's not a car that baits you to drive fast, but you tend to row along quite happily. It's a very pleasant place to have to do miles.That said, the engine won't inspire anything but getting there efficiently, and the general demeanour of the car is fairly chilled – it's grown up and comfy, and doesn't ever feel like doing a disservice by not driving as if you're being chased. This isn't a criticism as such, just a note that it hasn't got the crisp balance and now-and-again thrashability that a nice BMW might serve up.What stuff do you get?Another win for Volvo. There are two trims at UK launch, Momentum and Inscription (pictured here), both available in 'Pro' form. Momentum gets Volvo's standard Sensus 9-inch portrait touch screen and voice activation as well as LED headlights, powered tailgate, two-zone climate, a 12.3-inch driver's display and rear parking sensors, as well as Volvo's most up-to-date suite of safety aids. Of which there are a lot, as you might expect. Inscription adds leather-faced upholstery, powered front seats with memory function, front parking sensors, drift wood interior inlays (better than it sounds) and chrome exterior trim, as well as a few other bits and bobs, and the 'Pro' spec tops it all up with a panoramic glass sunroof, 19-inch alloys and a other kit too numerous to list.There's also Pilot Assist driver aids, various packages and a couple of options on the stereo front, with the Harman Kardon option costing £825 (14 speakers, 600W) giving way to the Bowers&Wilkins for serious audiophiles (£2,500, 15 speakers and 1,100W). But again, the interior adds to the dynamic experience: more than the basic specifications, the V60 feels like a place to take a deep breath, and relax. Perfect for the kind of vehicle this needs to be. The actual interior design is clean and crisp, unfussy and visually relaxing. The seats are firm and ultra-comfortable, you can seat a six-footer in the back behind a similarly-sized driver, and there are no annoying quirks. The portrait touchscreen can get a little information dense at times – there are a lot of digital buttons to push on some of the menus – but generally, it's all intuitive and easy to figure out and use. Kids in the back might appreciate a lower windowline, but with a 10cm gain in the wheelbase there's more legroom than before – despite looking shorter, the V60 is actually a smidge longer than either an Audi A4 or Merc C-Class Estate. It sounds expensive. Not necessarily. The V60 is aimed neatly at the middle of the market, and it's a strong pitch. Without delving too deeply, company car tax starts at just £147 a month for a D3 Momentum manual, while BCH (Business Contract Hire) is from £316 a month, based on a D3 Momentum, an initial rental of £1,896 +VAT, a 36-month contract and 10,000 miles a year. You'll get PCP for well under 4.5k down and £299 a month for four years. But more than that, the V60 makes a very strong case for itself by simply being a very nice, well-judged machine. It might not blow your socks off, but it won't scare or disappoint you, either. Residuals are likely to be strong, and reliability top notch. There's also the coming option of the 'Care by Volvo' package – a one-off payment (no prices as yet) that includes maintenance, servicing, roadside assistance and insurance, as well as access to another Volvo model for up to two weeks of the year. A sub, basically. It might make for a compelling all-in-one solution for a family car. It certainly stacks up neatly against the obvious competition, and it's worth a decent look before you default buy something German.
["Source-topgear"]