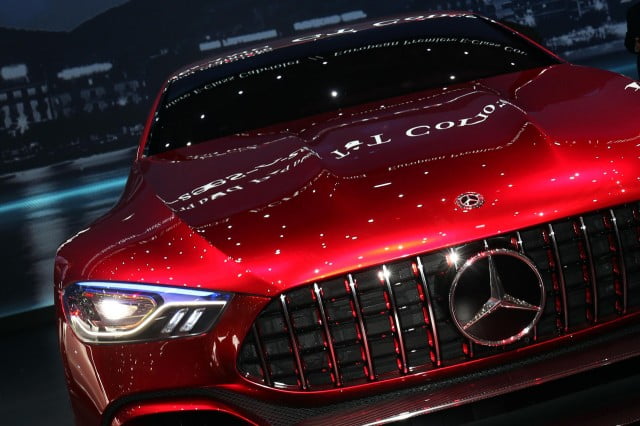 The 2017 Geneva auto show has come and gone. If you missed the action during the days of the show, here's a rundown of the major stars. At the top of the list is the Mercedes-AMG GT concept. The stunning fastback previews the Affalterbach tuner's Porsche Panamera rival and features a V-8-based hybrid powertrain good for 805 horsepower.
2018 Porsche Panamera Sport Turismo, 2017 Geneva auto show
Speaking of the Panamera, Porsche unveiled a new wagon option for the car. The automaker also unveiled its new range-topping trim: Turbo S E-Hybrid. This trim debuts on the Panamera sedan where it offers 680 hp.
Infiniti Q60 Project Black S concept, 2017 Geneva auto show
Infiniti hinted at a new performance sub-brand to rival BMW M and Mercedes-AMG with its Q60 Project Black S concept. The concept was developed in partnership with the Renault Sport Formula One team whose 2017 race car Infiniti helped developed.
2018 McLaren 720S, 2017 Geneva auto show
One of the crowd favorites was McLaren's replacement for the 650S. Called the 720S, the car is a true next-generation design featuring an all-new carbon fiber tub, twin-turbocharged 4.0-liter V-8 and evolved exterior design.
                                   Scuderia Cameron Glickenhaus SCG003S
America's Scuderia Cameron Glickenhaus also had a supercar on display in Geneva. The car is the SCG003S, the road-going cousin of the SCG003C race car that we first saw two years ago. It's available for order and is street-legal in the United States.
                                   Alpine A110
Sports car fans had a lot to look forward to as well. French brand Alpine has been revived and the first of the new generation of cars is the A110. It's a Porsche Cayman rival built from aluminum and powered by a turbocharged inline-4.
                                    2017 Honda Civic Type R, 2017 Geneva auto show
Honda used the show to display the production version of its U.S.-bound Civic Type R. The car matches the 306 hp of the outgoing Civic Type R and is to be offered exclusively with front-wheel drive and a 6-speed manual.
                                   Lamborghini Huracán Performante, 2017 Geneva auto show
Another crowd favorite was Lamborghini's Huracán Performante. This is the Huracán's equivalent of one of our most cherished cars, the Gallardo Superleggera, and it's just set a new lap record for a production car at the Nürburgring.
                                   2018 Volvo XC60, 2017 Geneva auto show
There were some mainstream models too. One of the most popular was Volvo's redesigned XC60. The small SUV looks like a shrunken-down XC90, which isn't a bad thing.
                                   2019 Volkswagen Arteon, 2017 Geneva motor show
Volkswagen also showed us its successor to the CC, the Arteon. The car is confirmed for sale in the U.S. in mid-2018, though whether it will be called an Arteon or CC is still up in the air.
["source-motorauthority"]