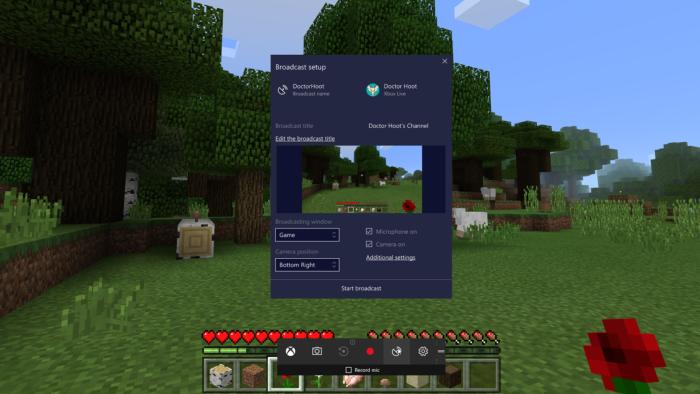 The gaming-focused Windows 10 Insider build that Microsoft promised earlier this week, with Game Mode, Beam livestreaming and other features, is rolling out—but with some game-breaking bugs, unfortunately.
What's officially known as Build 15019 for the Insider Fast Ring also includes a number of more general improvements, including a version of Edge that will read your ebooks aloud and a better out-of-box experience, complete with voice actors to guide you through the process.
If you're hoping to try out the new PC-centric Game Mode for yourself, though, be wary: Microsoft warned that unspecified "popular games" may experience crashes or black screens when loading, and clicking on certain elements in a Win32 game may cause it to be minimized (and therefore unplayable) unless killed. Even the new Game Mode will show up as OFF when in fact it's enabled by default. Also, be aware of one download glitch: The issue Microsoft had with its progress bar is still there, so the download will still show "0% completed" even when it's actually downloading.
"We recognize that this is painful for those wanting to try out the new gaming features announced this week," Microsoft's Insider chief, Dona Sarkar, wrote in a blog post. "We deliberated a lot on whether to release this build to Insiders with these issues; however we decided to go ahead and release it as we need feedback from Insiders on other areas of the OS."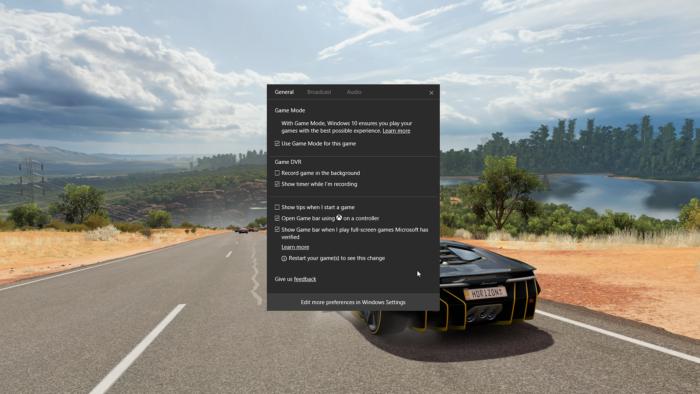 Some great new gaming features
Build 15019 is specifically optimized for gaming, with new additions to both the Xbox One and Windows 10 platforms. (A separate build for Xbox Insiders should roll out today, with support for Screentime, a parental control that is already on Windows 10.) Our previous story outlined the new additions, but we'll briefly recap them here:
Game Mode: a specific mode for the PC that minimizes the resources other background tasks have at their disposal, giving the game all of the resources your PC can spare. My colleague Brad Chacos has outlined what Game Mode does for your PC. The Windows Game Bar now supports 17 more games in fullscreen mode, including Battlefield 3, Call of Duty Black Ops 2, FIFA 14 and FIFA 17, Rocket League, and more.
Gaming Settings: Microsoft has consolidated gaming controls for Game Bar, GameDVR, and more into a Gaming section in Windows 10's Settings.
Beam livestreaming: Microsoft bought Beam and its livestreaming technology last year to take the games you're playing on Windows 10 and the Xbox and broadcast them to others on the Internet. You'll be able to trigger the Game Bar (Win + G) and show others how fast you can drive in Forza Horizon 3.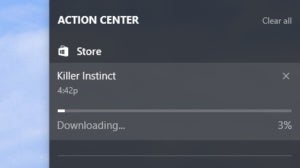 Microsoft also revealed a small additional convenience: If you buy a game from the Microsoft Store app, you'll be able to track its download progress in the Action Center notifications. The company also fixed a bug that would crash the display controller if an Xbox controller was attached, and another that could cause the screen to flicker if a player used Alt + Tab to change focus to another window.
A better out-of-box experience
Having just reset a balky Surface Pro 4 that couldn't get past Build 15002, I can confirm that the out-of-box experience that build introduced is excellent—and Build 15019 promises to improve on it even more. Setting up a new PC is now voice-driven: Cortana asks you the questions you'd normally have to be at your keyboard to answer. (For those who are unable to hear Cortana, there are now subtitles.)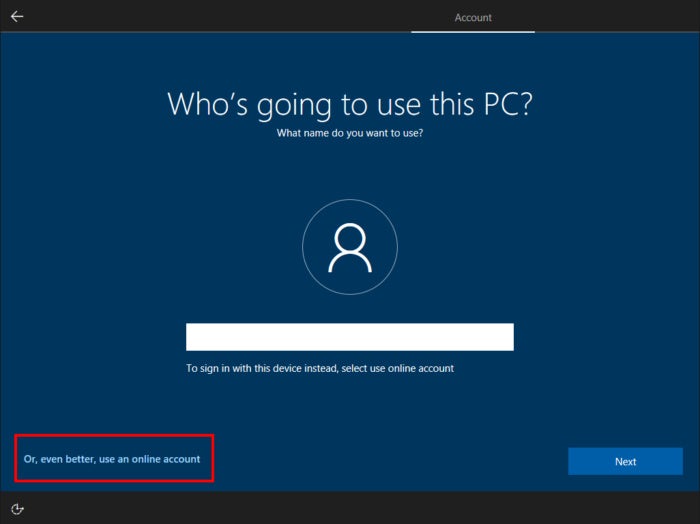 With build 15002 and the latest build 15019, you can be working away at another PC while Cortana's voice asks you if you'd like to accept the default options and other questions. It's fun to holler "Yes!" and keep typing.
At one point during build 15002's reset process, Cortana's voice was replaced by a more robotic text-to-speech voice. That's been fixed, with additional voice acting in place to maintain a consistent, pleasant tone. A bit of spit and polish has updated the UI, including the way in which you sign in with a Microsoft account. Windows Hello enrollment, which simply asks you to smile at the camera for a second or two, has also been updated.
Troubleshooters, all in one place
I have sporadic issues at my home office where my Wi-Fi connection needs to be reset, requiring me to right-click my Wi-Fi icon on the Taskbar and launch the troubleshooter. For Build 15019, Microsoft's grouped all of the Troubleshooter options inside Settings > Update & Security > Troubleshoot so you can see the complete list, including tools for resolving printer issues, Windows updates, Bluetooth, and more.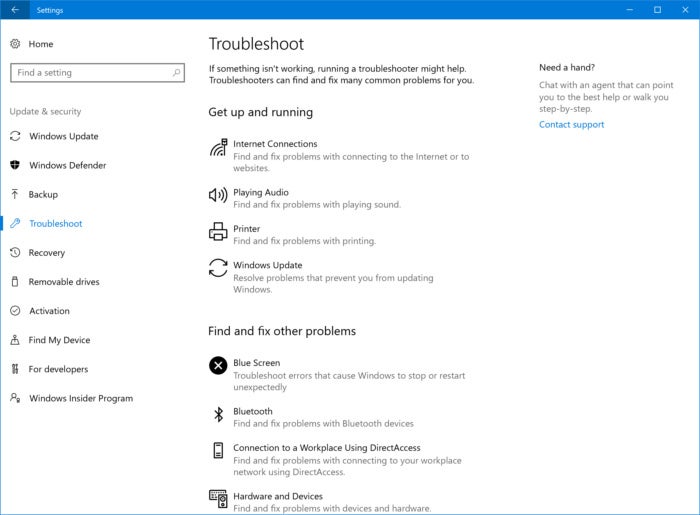 A bevy of other useful features
Build 15019 adds a number of other useful features, most of which don't require that much additional explanation:
A new "read aloud" button in Microsoft Edge will read ebooks stored in Edge in 24 languages.

Microsoft

Edge's new "read aloud" interface.

Full-color emoji, on those sites that use them.
Blue light support, which removes the blue colors your display produces late at night so as to help prevent insomnia. (Microsoft now calls the feature "night light.")
If you use the Hyper-V feature to create virtual machines, you can now resize the window and the guest OS will rescale the resolution appropriately.
source"cnbc"