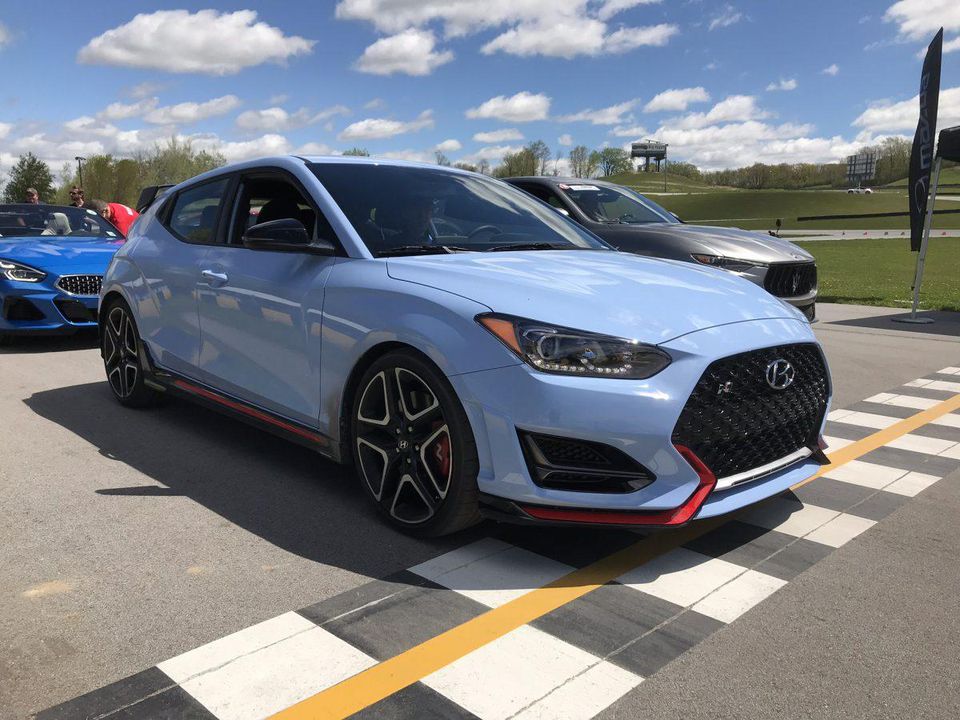 Having a great time usually entails spending money. That relationship is inverted on the all-new 2019 Hyundai Veloster N. The performance variant of the hatchback with the odd third door is the best affordable sports car on the market.
During controlled track laps and squaring off on the autocross against the Mazda MX-5 Miata, Volkswagen Golf GTI, Nissan 370Z, BMW M2, Toyota 86 and others, the hot hatch impressed with its aggressive handling, excellent braking and overall value.
The first N-line performance in the U.S. market, Veloster N marks a new highpoint in the evolution of the Korean brand. Launched here in 1986, Hyundai was a budget brand beset with reliability problems. About a decade later, it shook the industry with an unheard of 10-year/100,000-mile powertrain warranty that had to be backed with quality. In the past decade, the strategy has been to build out that quality with distinctive design, which helped Hyundai launch its luxury brand, Genesis, for model year 2017. The 2019 Genesis G70 sedan won my vote for best car of the year, with an excellent balance of power, handling, refinement and value.
The Veloster N brings that winning combination downmarket. It is the first true performance offering built on Hyundai's guiding principles: a reassuring powertrain and new car warranty to repair or replace any original defective component; design meant for everyday hatchback versatility and exceptional handling capability; and an overall value under $30,000 that beats every other similarly-equipped hot hatch.
I can't believe I'm about to say this, but it might be better than the Volkswagen Golf GTI.
Pause.
That might be the afterglow of a fun couple days on the track and autocross at Road America in Elkhart Lake, Wisc. To be fair, that GTI Rabbit had all-season tires, and the Veloster N with the available Performance Package ($2,100) upgraded from Pilot Super Sports to Pirelli P Zero summer tires.
Tires can have a dramatic effect, but there's something else here.
From the outside, the Veloster N has subtle upgrades from the Turbo or R-Spec models. It has a larger rear spoiler, louder dual exhaust that goes snap-crackle-pop, 19-inch wheels available on the Performance Package, and functional front air ducts to cool those brakes.
The roomier GTI with four proper doors and a large hatch might give it a nod for everyday practicality. But on two 4-mile track laps, once in the damp fog and once in the dry sun, this "corner rascal" was easy to control in corners both wet and dry and the braking was outstanding. In fact, in back-to-back laps on the serpentining autocross course with the BMW M2, the Veloster N braked with greater control than the M2, which wanted to whip its rear all over the course.
I'm not saying the N is better than the M2. The braking might be.
Benchmarking Brembo without paying Brembo prices, Hyundai redesigned its own brakes and oversized rotors intended for a larger vehicle than the relatively lightweight N, which is just over 3,100 pounds.
The 275-horsepower 2-liter turbo four-cylinder with the six-speed manual can hit 60 mph in 5.2 seconds, according to Car and Driver. That's half a second quicker than the GTI, but nearly half a second slower than the more expensive Honda Civic Type R, Ford Focus RS or Golf R. Forget about the M2.
The N maintains speed for quicker cornering. The 260 pound-feet of torque comes low in the rev range at 1,450 rpm, and rev matching simplifies downshifting on the track. The limited-slip differential, along with an electronically-controlled suspension, minimizes the nose dive and plowing associated with front-drive performance vehicles during hard braking and turn ins. Roll is minimal and it lets you get up and go fluidly out of the apex. It's a blast to drive hard and the confident overall feel boosts the driver's confidence as well.
The interior has a simple adult sophistication instead of a tuner boy's mess of gauges and controls. The  driving dynamics displayed on the 8-inch color touchscreen is a nice visual aid. Steering wheel controls are Hyundai-familiar, with driving mode buttons below in performance blue.
At 25 mpg combined, it lags the GTI (27 mpg combined) in fuel economy. But the GTI is more accessible for passengers and gear.
The new hot hatch in town has announced itself with authority. Give it a try. At under $30,000, it'll be hard to walk away, easy to have a great time.
Quick take: 2019 Hyundai Veloster N with Performance Package
Segment: Three-door hot hatch
Good: Cornering, braking, overall value
Bad: I don't have one.
Base price: $26,900
As tested:  $29,885 (including $885 destination)
Powertrain: 275-horsepower 2-liter turbo 4-cylinder with 6-speed manual
Competitive rank: Hyundai Veloster N, Volkswagen GTI, Mazda MX-5 Miata, Toyota 86, Subaru WRX, Honda Civic Si.
["source=forbes"]