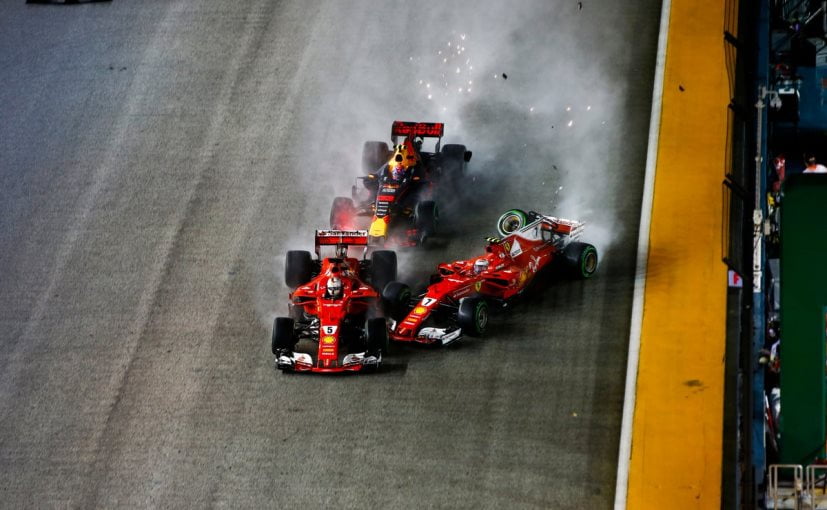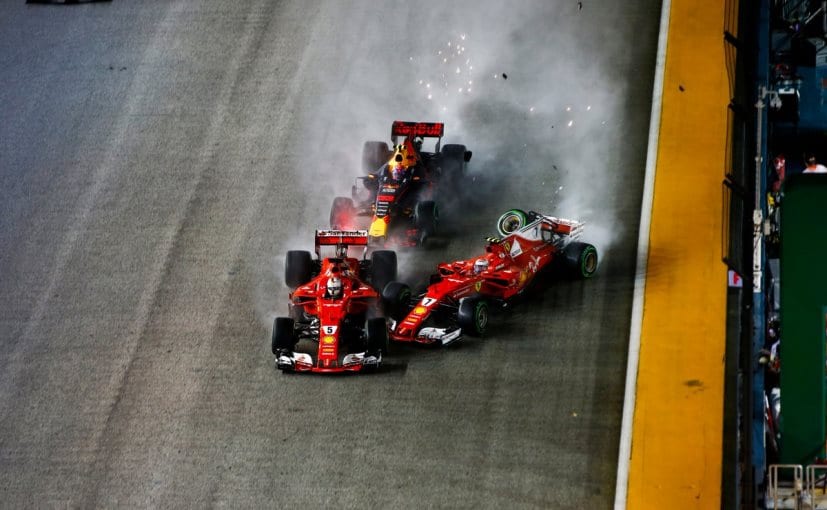 Mercedes-AMG F1's Lewis Hamilton won the Formula 1 Singapore Grand Prix, consolidating his lead for world championship title. The Briton passed the chequered flag with a lead of 4.5 seconds ahead of Red Bull driver Daniel Ricciardo, while teammate Valtteri Bottas finished third. The victory is massive for Hamilton, who started fifth on the grid after a less than impressive qualifying but the explosive crash between the two Ferraris, Max Verstappen and Fernando Alonso in the opening lap eliminated most of the competition.
The Singapore GP started to a wet track after witnessing downpour through the day. While the top drivers six opted for intermediate tyres, others chose to get full wets. The race started with Vettel at the pole, but it was teammate Kimi Raikkonen making a fantastic start from fourth and was alongside Vettel and Verstappen just before Turn 1.
Vettel wanting to extend his lead moved into the inside line and squeezed Verstappen in the process. The Dutch driver then made contact with Raikkonen, swerving his Ferrari into Vettel. Raikkonen's car also collected Alonso and Verstappen in the process, ending the race for Raikkonen and Verstappen immediately. Vettel, however, managed to retain his lead albeit with a damaged car but had to retire on Turn 3 with his car losing control.
With the top drivers out of contention, Hamilton inherited the lead from Vettel, with Ricciardo on P2 and Renault's Nico Hulkenberg on P3. It was no looking back for Mercedes now who set the pace for the remainder of the race.

Making his way to Renault next year, Torro Rosso's Carlos Sainz Jr secured his career best finish on P4 at Singapore, ahead of Force India's Sergio Perez. Renault's Jolyon Palmer scored his first ever points of the season finishing in sixth place. McLaren driver Stoffel Vandoorne finished seventh, ahead of Williams' Lance Stroll. The last two spots on the points table were taken by Romain Grosjean and Esteban Ocon finishing ninth and tenth respectively.

Hamilton said, "This is a great result. We was very fortunate with the Ferraris at the beginning. I'm glad we brought it home." His teammate, Bottas said, "For us we definitely got lucky. On a difficult circuit a 1-3 is nearly perfect"
The Singapore GP saw eight retirements which goes on to show how tricky the night race was. Apart from the crashes in the opening lap, Daniil Kvyat crashed on the back straight after under-steering into the wall, while Marcus Ericsson called for the red flags after crashing on the Anderson bridge. Renault's Nico Hulkenberg suffered mechanical problems, forcing him to retire with 11 laps to go.
With his third back-to-back wins, Hamilton has extended his lead by 28 points over Vettel in the championship, while Bottas continues to retain third place.
["source=auto.ndtv"]