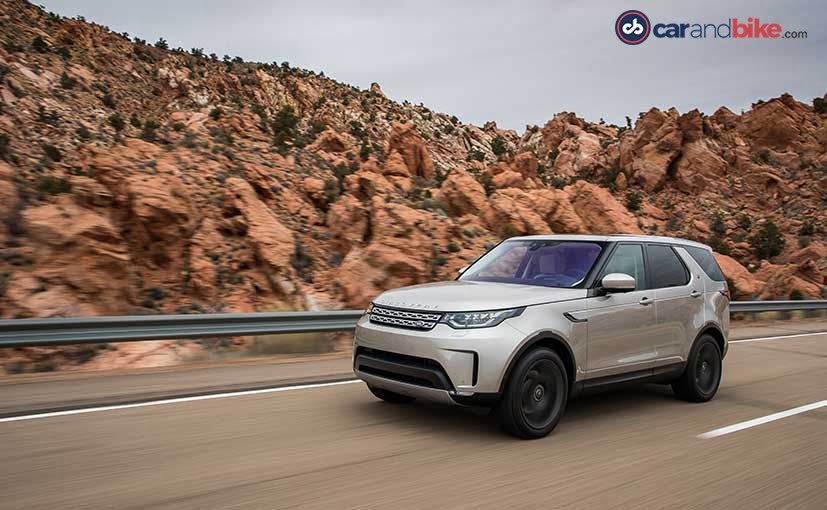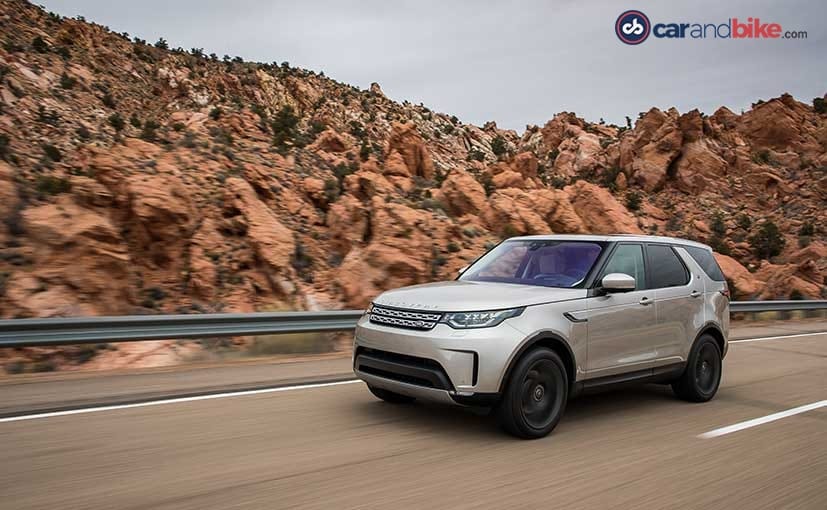 The Land Rover Discovery has been around since 1989, and is one of the world's most sought after and coveted SUV nameplates. Over the years, it has developed an image and reputation for being a true workhorse, a very capable off-roader, and still has a very premium appeal about it. The new Discovery 5 is now ready to rumble, and tries to take all of that legacy forward, but in a new direction. For the past few years we have seen Land Rover consciously move all its existing brands up the price scale, in order to a) create room for each brand family to grow, and b) to create new families of vehicles. We know that Range Rover will always be at the pinnacle of that pyramid, and now has a 4 member-strong family. Discovery follows, and then there will be the new Defenders. The Discovery Sport is the lower priced, smaller car, and the new Discovery 5 is the fullsized premium SUV offering. Now, to some, this will be the new 5th generation Discovery though given that two generations of the car just had massive updates, it could be called the 3rd too. But since Land Rover calls it the Discovery 5 that's what I am going to stick to!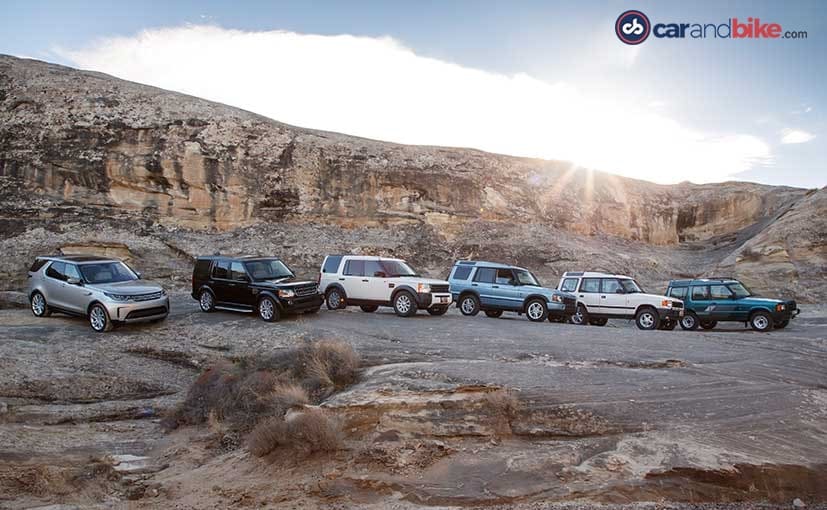 I am in the United States to test this car. Not surprising because America has not only some fitting terrain to test the car's capability but is also a primary market for this vehicle. The only journalist from India to drive this car, I was also privileged to be in the very first rotation of global journalists to get their hands on this thing! Stepping off a charter flight from Los Angeles at the St. George airport in the stark Utah countryside told me that we had landed pretty much in the middle of nowhere! Waiting for us was a smart fleet of the brand new Discovery – 3 engine variants, dressed in three different body colours! India will get the Si6 and TDV6, and so those were the cars earmarked for me. But I did get some time behind the wheel of the 2.0 Ingenium diesel too. That's the first four-cylinder diesel in a Discovery ever – and the new twin-turbo is available with either a 237 bhp or 178 bhp output.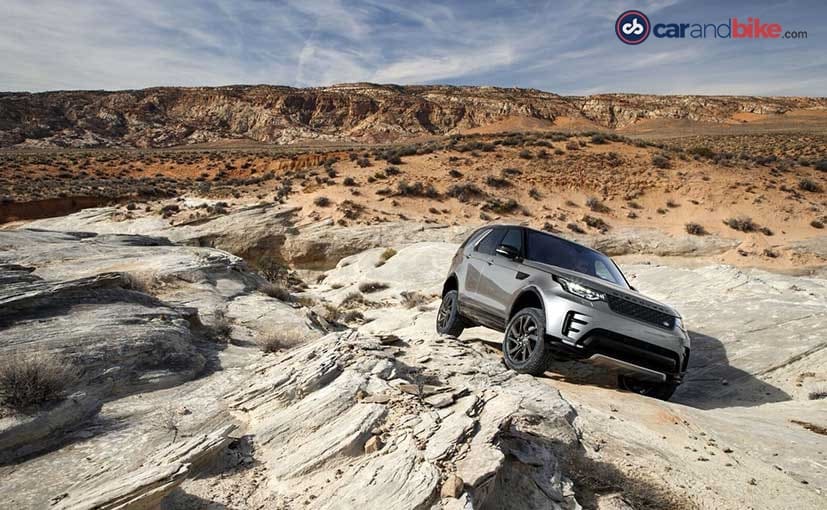 The 6-cylinder petrol Si6 is the one for you if speed and sportiness are your thing. It punches 333 horses and has 450 Nm of torque, and can do 0-100 kmph in 7.1 seconds! And I did get ample opportunity to really test that car. But I spent even more time with the TDV6. This is another familiar engine for us when it comes to the JLR family. The 253 bhp, 600 Nm V6 is married to ZF's very capable 8-Speed automatic gearbox like its petrol counterpart. You get a bulk of that torque nice and low too.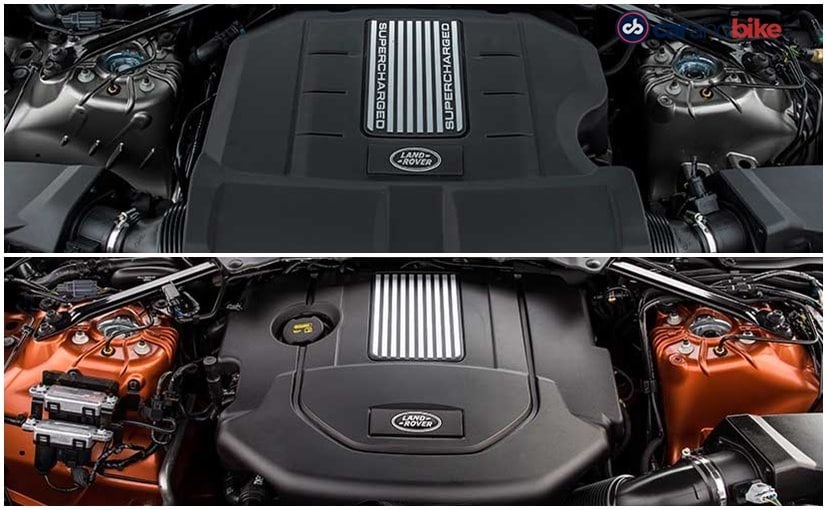 The new Discovery 5 is what Land Rover says, the most capable, dynamic and comprehensive vehicle it has ever built. It is also the most heavily specced and luxurious – outside the Range Rover brand i.e. The Discovery 5 uses an aluminium architecture like many of its siblings in the JLR universe. This has led to a 480 kilogram weight drop over the previous Discovery 4. It also makes the car the stiffest Discovery ever. The car also has magnesium in the front-end and high strength aluminium has been used for the B pillar. There is a steel sub-frame that provides better centre of gravity and more cargo space. The car's advanced composite one-piece tailgate gives it near 50:50 weight distribution – pretty remarkable for a car this shape and size. After all, given it weighs more than two tonnes, this is not a light car to begin with!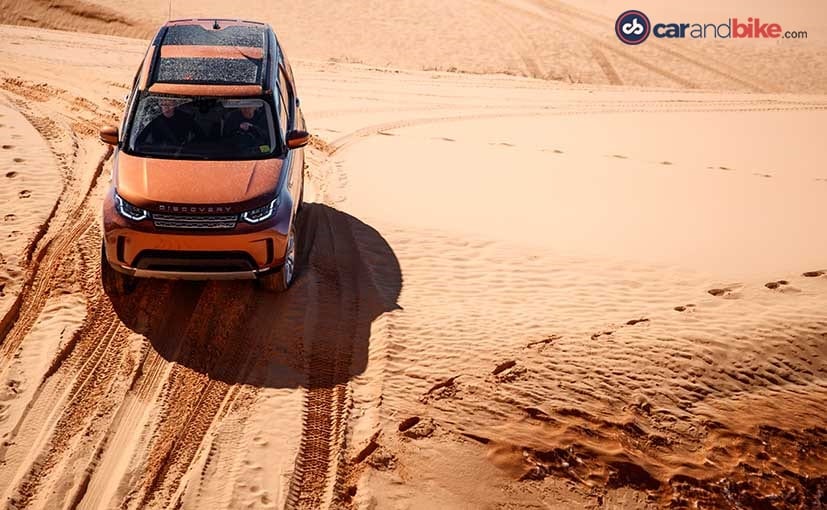 I began by driving the diesel TDV6 on the smooth, flat US Interstate tarmac, but was soon winding up into the rocky twisty roads deeper into the countryside. The gorgeous red sandstone landscape was a foil to the Namib Orange Disco with me. After our first stop it was time to check out the car's off-road skills right away. And this is an environment the Discovery 5 belongs to – not hotel porches, golf course parking lots or mad city traffic! The Discovery 5's suspension has been borrowed from the Range Rover's. This gives it better body control and on-road comfort than any Discovery before it. The front double wishbone and rear integral-link layout is capable and swallows pretty much anything you throw its way. Add in the optional air suspension and you're really in comfort heaven – and before you can ask yes, that is likely to be standard and not optional on the Indian spec. By the way, that new rear suspension is more compact to give additional space for adults in row 3.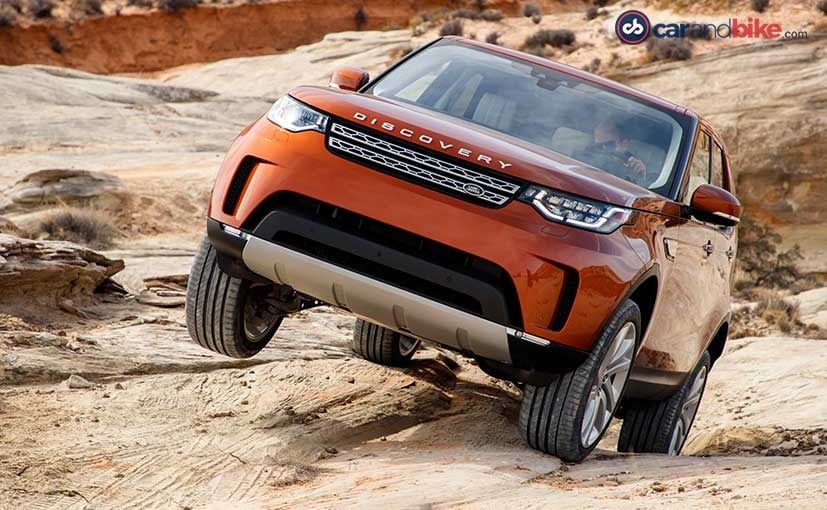 The car's ride is supple, though at higher speeds on smooth tarmac you will sense a touch of roll and so the car comes across as a bit floaty. You also get a sense of the car's massive bulk when you're driving it faster, unlike some of the modern SUVs we are now used to. But it makes up for that with a very precise and tight steering. The Discovery 5 gets Land Rover's Terrain Response 2 with the 'auto mode' that monitors throttle, braking, steering response, suspension, and traction control, depending on the surface you're on. Of course, you can manually switch to sand or grass/gravel/snow or mud/ruts or rock crawl on the terrain response dial. All Terrain Progress Control is also standard – and couples with the hill descent feature. The car has a generous 283 mm ground clearance, a huge 500 mm wheel articulation and a generous 900 mm wading depth – that's up 200 mm over the last Discovery. Land Rover says it's the most capable off-road car it's ever built – and yes I am including the Defender in this claim. Now have I got your attention? The air suspension has a 2-stage off-road mode that will see it stay higher by 75 mm at speeds of up to 50 kmph, 40 mm higher between 50 and 80 kmph, and dropping by 13 mm above 105 kmph. That gives you a total 210 mm raising/lowering range. When you come to a stop and remove the seatbelts, the car drops 15 mm. Open the door and it drops another 25 mm – to make getting out easier.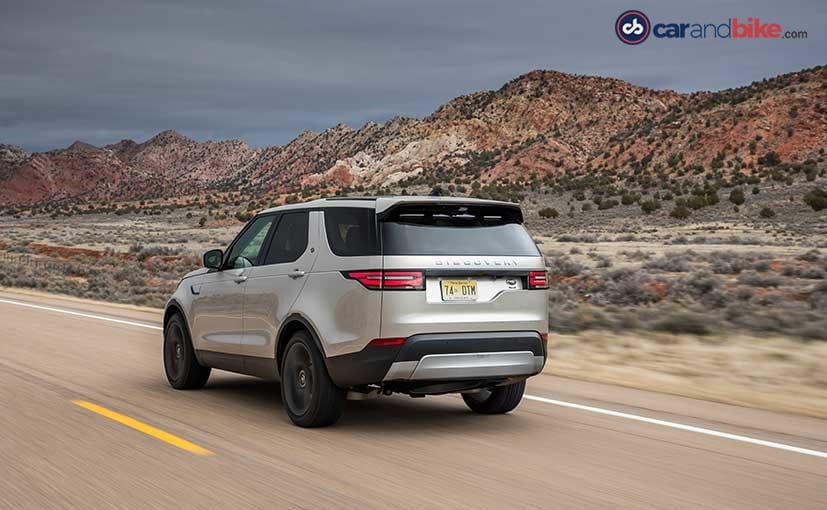 I switched the Terrain Response to sand as we approached the rather spectacular Coral Pink Sand Dunes State Park. Just below 4000 acres, this desert can be accessed from Kanab, Utah – and if you're ever in these parts do definitely drive by even if you don't want to go dune bashing. The pink hues come from the area's predominant sandstone base. It's not just gorgeous but provides a very fine granular sand surface – that's tough to drive on. We dropped the tyre pressure and off I went. The Discovery didn't hesitate or seem unsure even once. I'm happy to report that unlike some others in the group, I got through without any incidents that required being tugged out of the sand! If I had been happy driving on muddy tracks, broken rock and rough surfaces earlier, this time around it felt like even the car was smiling with me. So at ease, and so at home – the Discovery just ploughed on – conquering steep inclines, treacherously soft sand, and even driving unruffled over the patches of ice and snow we encountered. Yes – it's a desert but given it was still the end of winter, there was plenty of snow all over the place!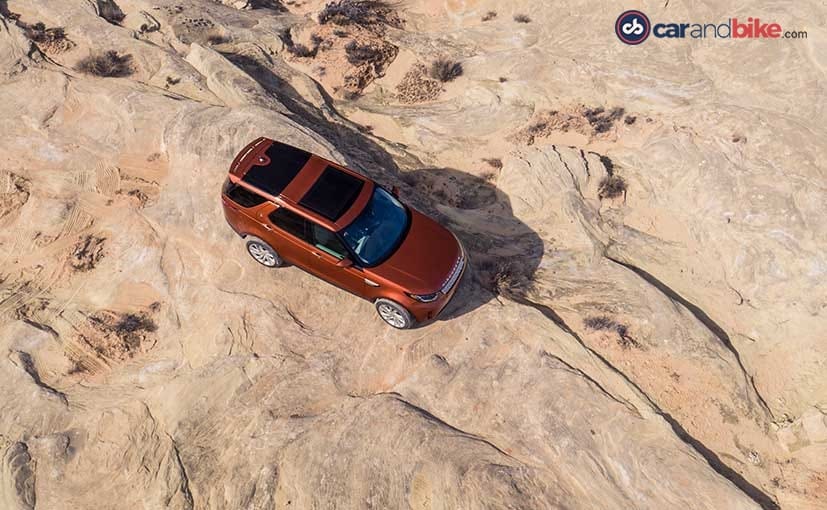 As the day wore on we had one more adventure to conquer – a rock crawl. The Discovery wrapped it up with sheer ease. Now I will submit that all planned test routes – on and off-road are designed to be within the capabilities of the vehicle being tested. But the rock crawl got very hairy – at times I felt like I was driving the car vertically up! All I had was the car's cameras, Terrain Response 2 set to rock crawl, low range engaged and a pair of spotters helping me out to make sure I don't end up in the valley below. No make that far below! And I did all of the above – on regular tyres mind you. The Discovery is certainly a capably talented off-roader. And yes, it amply lives up to Land Rover's claims. As I drove on to the hotel, I finally had time to take a few more things in. Given that customers today are looking for all sorts of gadgets (ambient lighting – check!) and technology, the Discovery 5 comes with driver-aids like autonomous emergency braking, adaptive cruise control, lane-keep assist, and a semi-autonomous parallel or perpendicular self-parking function.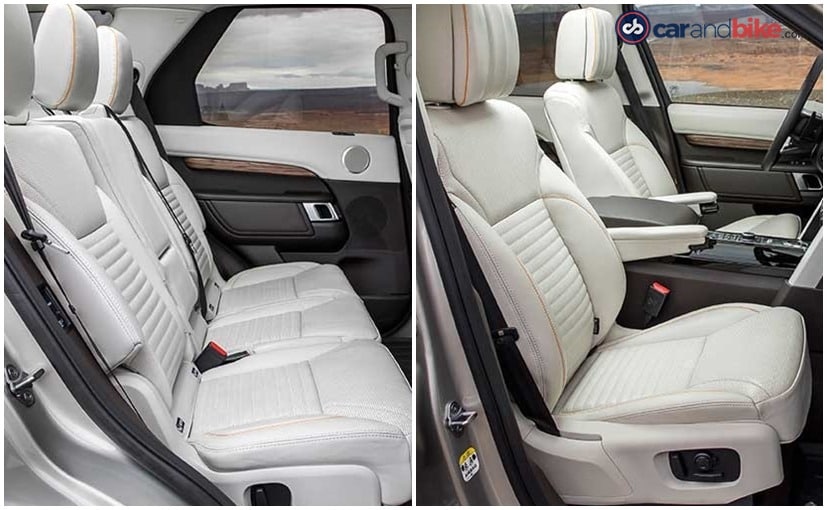 Before I wrap this up, a quick word on how the car looks now. While the attempt has been to go modern, almost pretty-like – let's get one thing out of the way. The die-hard Discovery fan would be disappointed by the looks of the car. The tailgate is one-piece as I mentioned, and so the split rear door that almost gave the Disco its identity is gone. Instead you get an inner-load floor that electrically folds out if you'd like, once the tailgate is opened. It can take up to 300 kgs of weight and so is still as functional as the bottom part of the previous split gate. The other hark back to the old car's looks is the very slightly stepped-roof, that provides more headroom to the third-row passengers. The car's rear 3/4th view is a bit heavy, and the bumpers – front and back – are rather large. But what Land Rover has attempted is to provide a proper 7 seater – in the sense that it wants you to believe the third-row is also great for full-size adults.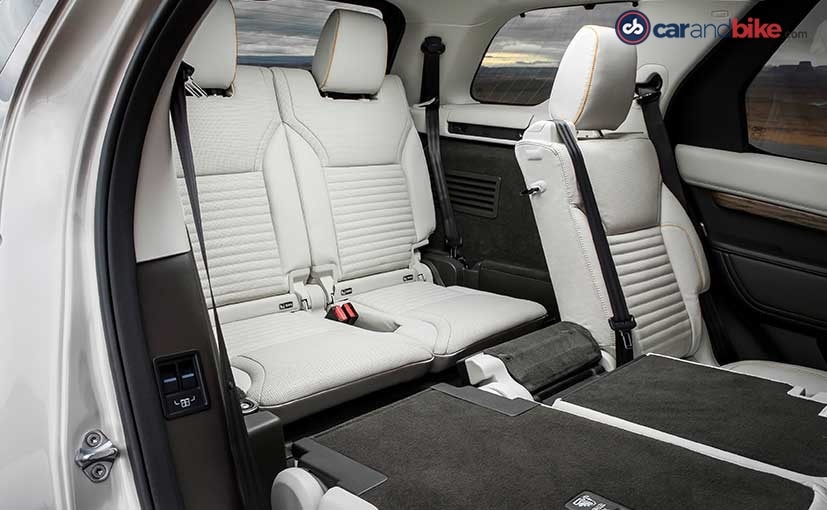 That claim while not entirely true, does hold when compared to rival cars with 3 rows. The new Disco is less than 5 metres in length at 4790 mm. There's an extra 38 mm in its wheelbase (2923 mm) over the last car. Land Rover claims 960 mm of legroom in the second-row. The car has an 'Intelligent Seat Fold' system – and that means the seats are all electrically operational and foldable. And they use artificial intelligence and in-seat sensors to work – another first. You can control all this from the function on the touchscreen in the central console or from an app on your smartphone. There are 21 different configurations possible and second and third row seats can all be folded flat in 14 seconds. That then gives you a massive 2500 litres of cargo space!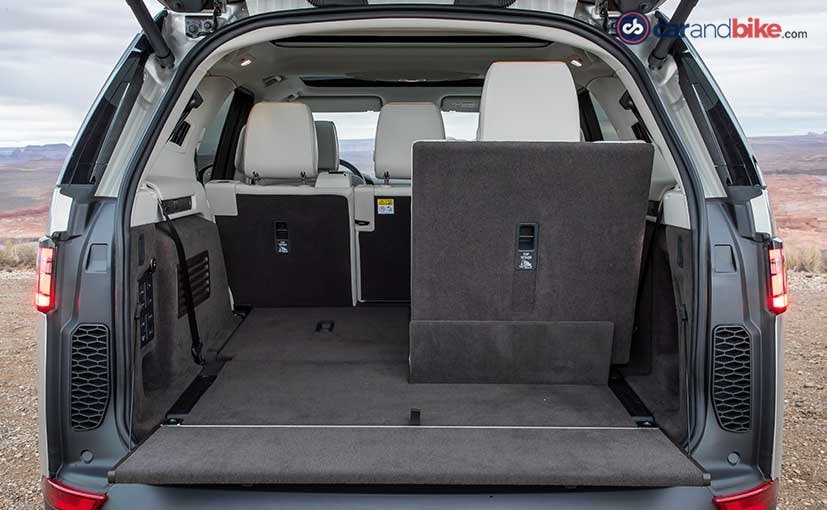 The car has 21 stowage areas, including a secret space behind the HVAC controls! It provides every occupant with options to plug-in their handheld devices, connect to an in-car Wi-Fi hotspot and be adequately cooled by the HVAC system. The new in-car control apps, bigger touchscreen and smartphone connectivity rounds things off to make this a highly contemporary package. But no Apple CarPlay or Android Auto! It is also a much quieter cabin now. But really when you buy a Discovery you're not doing it for the stowage units or connectivity or seat configuration – important as all these new features have become. What you're looking for is a proper workhorse SUV in the guise of a family car.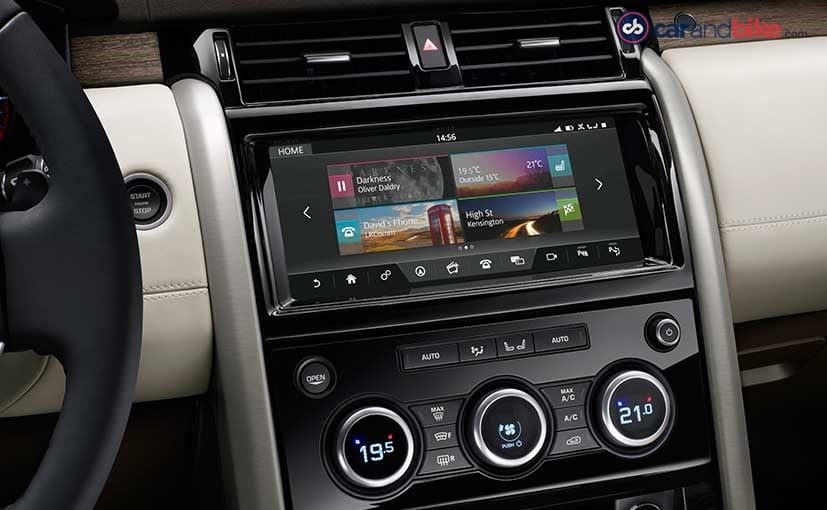 Given how pricey the car is going to be when it gets to India – I know many of you will be smirking or cringing as your read this. But that's the proposition in the UK and other important Discovery markets like USA anyway! And the Discovery 5 will do all of that with a fair amount of ease. It won't get to us until 2018, and like in most markets, will primarily rival the Audi Q7. But it has such a different attribute and skill – compared to that car, that both will be immediately distinct.
["source-ndtv"]