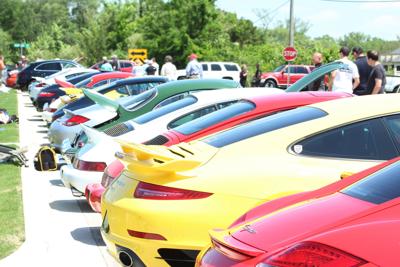 FLORENCE — Porsche collections from across the Southeast will be on display during the annual Über Region Fest scheduled for Saturday, June 8, at TMT America/ Trissl Sports Cars on Wilhite Street in Florence.
There will be self-guided tours and visits with Porsche enthusiasts from across the country. Attendees may even get the chance to sit at a race simulator or take a turn on the autocross course and test your mettle behind the wheel.
In addition to the car show, Über Region Fest will feature live music beginning at 2 p.m. on the TMT America Stage. Local bands, Harvey Thompson and Friends, and Single Lock recording artists Daniel Elias+Exotic Dangers, kick off the music, and Mike Szuter and the Rock-N-Roll Rebels, from Las Vegas, round out the evening beginning at 6:30 p.m.
ÜRF Happy Hour will begin at 5 p.m. Local vendors and kids' activities are also planned.
"Über Region Fest is a great time to bring together lots of folks from across the country to see some great cars and hear some great music," Thomas Trissl, TMT America president and founder, said in a news release. "Make plans to stay all day and into the evening."
This year, the University of North Alabama Office of International Affairs is a benefactor of the event, as is the Florence Police Department, and the Drive Toward a Cure organization for Parkinson's Disease.
Visitors to the area can get a sneak peek of the show on Friday, June 7, during First Fridays in downtown Florence. Several of the cars will be lined up at the event.
More details are available at trisslsportscars.com, on Facebook, by emailing [email protected], or by calling 256-766-0911.
["source=timesdaily"]