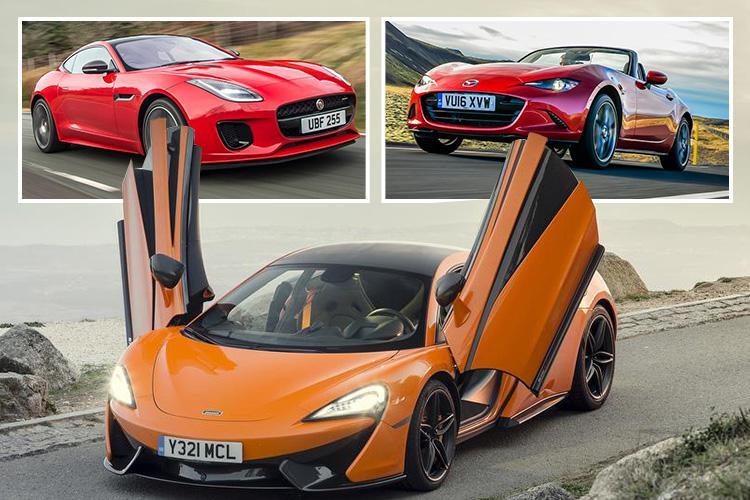 And you don't even have to give up too much practicality, comfort or even reasonable running costs.
There are plenty that won't drain their fuel tank as fast as your bank account when it comes to running them, either.
And while you won't fit a family in these two-seaters, the cars on our list here are designed to be used every day, all year round.
Of course, a sports car has to be great to drive and look sensational whether it's driving down a favourite back lane or parked at the supermarket.
And if you have just got your inheritance there are some top of the range models that will wow the neighbours.
Tempted? You should be, so with the help of the expert reviewers at Auto Trader here's a guide to the best of what's available.
Mazda MX-5 – the low-cost one
The Mazda MX-5 has been flying the flag for affordable sports cars for almost 30 years and the latest model takes its inspiration from the much-loved original.
This means low weight is the key to its great handling and performance. With so little to move around, it doesn't need a big engine, though we'd choose the 2.0-litre over the 1.5 for its extra power when overtaking or zinging down back roads.
Neither is as quick as a hot hatch, but the super steering and handling let you make the most of what's available – plus you'll get 40mpg.
The cabin offers good space for two and comes with an intuitive infotainment system, and the small but well-shaped 130-litre boot can hold a couple of cases.
There's also the RF version, with a folding hard top, that offers a less blustery experience than the fabric-roofed roadster.
Prices start from around £20,000 – although you can pick one up on a finance deal for as little as £229 a month.
Audi TT – the fun one
Pub bores will tell you the Audi TT is nothing more than a Volkswagen Golf in a party frock. They're wrong, of course, but even if it were true, we'd still be recommending this fantastic car.
It looks dramatic and stays true to the bold design of the original model, so you know instantly what it is without ever having to see a badge.
Offered as both a hard-roof coupe and a soft-top Roadster, both are stylish choices and come with a range of engines that is plenty quick enough.
You can also have Quattro all-wheel drive for added traction on slippery roads or to extract every last ounce of grip in corners.
To cap it all, the TT is also frugal, spacious for two and built with all the care and precision you expect of an Audi. All that for a car that starts at £30,000.
McLaren 570S– the super-fast one
Everything in life is relative, so when the company describes the McLaren 570S as being a more affordable, accessible model, it's not talking about an MPV.
What you do get is a coupe or spider convertible built to exacting standards that's capable of competing with both mainstream and extreme rivals.
Powering the McLaren is a twin-turbo 3.8-litre V8 engine that makes a simply fantastic noise and powers the car through a seamless seven-speed twin-clutch gearbox for instant shifts.
Then there's the sublime handling, intuitive steering and ride comfort few competitors can get close to.
Add in the cosseting cabin and you have one of the most desirable sports car ever to grace the road – although you'll need the best part of £150,000 to get behind the wheel.
Jaguar F-Type – the pretty one
Ian Callum, the designer of the Jaguar F-Type, describes this as the car he always wanted to make after being inspired by the E-Type as a boy.
You can certainly see some features from Jaguar's iconic 1960s sports car in the F-Type, yet both coupe and convertible are thoroughly modern in their appeal and detailing.
It's the same story in the cabin, where the F-Type mixes Jaguar luxury with a more sporty feel.
And there's all the poise and grace in the handling to make the most of this performance, so the F-Type really is the successor to its illustrious ancestor.
Prices range from a new entry level four-cylinder for under £50,000 up to a £90,000 F-Type R AWD.
Porsche 718 Boxster – the keen driver's one
For more than two decades, the Porsche Boxster has been the ultimate sports car for enthusiasts wanting purist driving thrills.
A swap to four-cylinder turbocharged engines might not please all of the old guard, but the truth is they are more powerful, cleaner and easier on the wallet.
Whichever version you choose, with manual or PDK twin-clutch gearboxes, the Porsche remains the benchmark in its segment – not bad for a car that starts at a shade over £40,000.
No rival offers such a fine balance of handling, steering, brakes and ride control, and it's all wrapped up in a sleek body.
It's just as classy inside, too, even if you have to spend a bit extra on some desirable options.
[source=thesun]