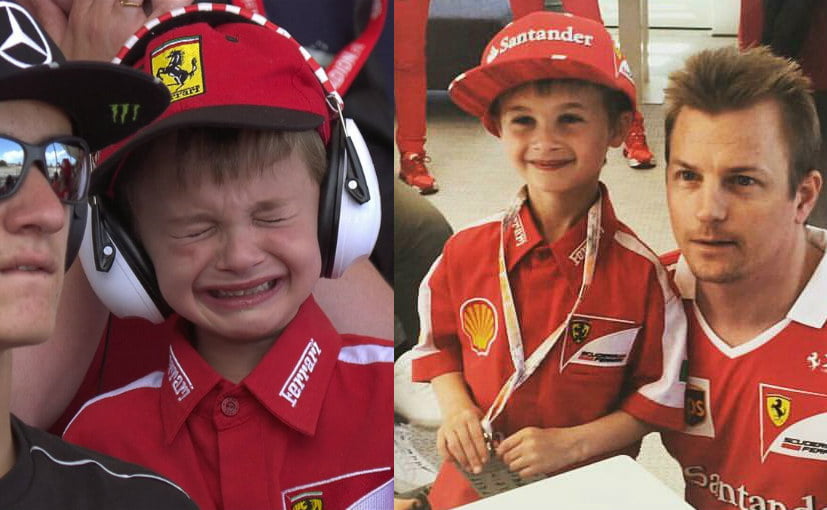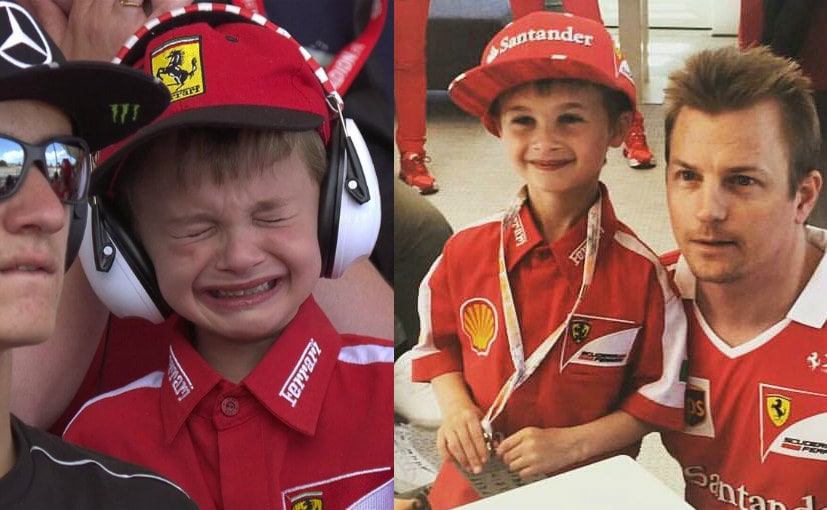 It is devastating to see your idol retire early in the race. For the young Ferrari fan – Thomas Danel, it was a similar nightmare at the Spanish Grand Prix yesterday as Kimi Raikkonen crashed early in the race, leaving him with tears in his eyes and kudos to the camera guys to spot him in the huge crowd. Little did he know, his tears would turn out to be one of the best memories of not only his life, but also F1's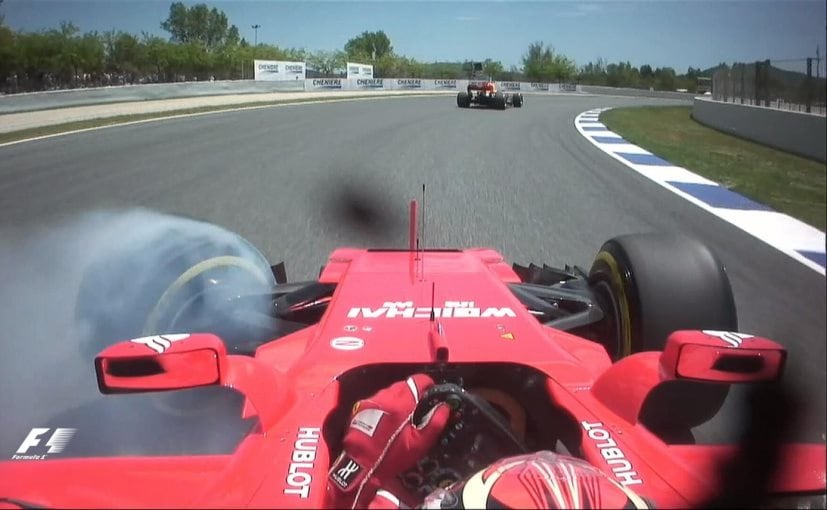 Kimi Raikkonen crash on Turn 1 of the opening lap
As Kimi Raikkonen crashed on Turn 1 of the opening lap at the Circuit de Catalunya, TV cameras picked up a sobbing Thomas in the stands at the sight of his idol's race ending earlier than expected. The little fan's tears caught the world's attention and Ferrari too was intimated about the reaction. The team then tracked down Thomas and his family in the stands and brought them to the Ferrari lounge in the paddock to meet Kimi Raikkonen.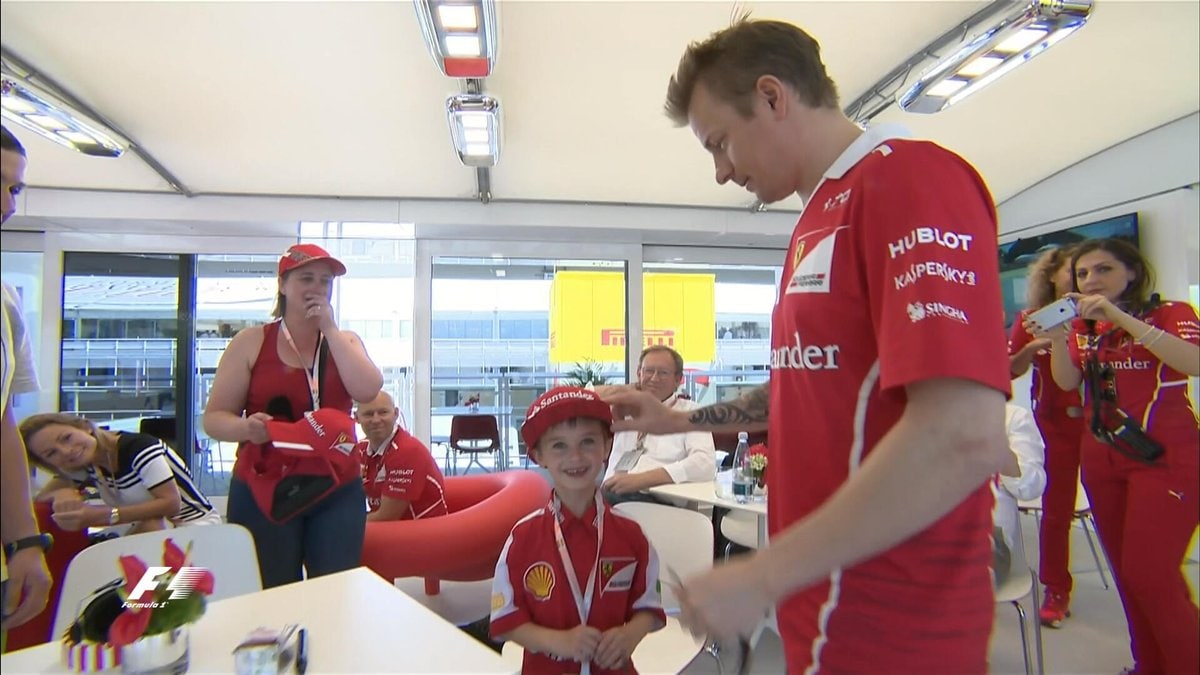 Kimi handed Thomas his personal cap and even clicked pictures
Dressed in a Ferrari cap, T-shirt and matching red shorts, the junior fan managed to get pictures clicked with Kimi himself and the ice man also gave him, his personal team cap. Thomas later celebrated Sebastian Vettel's podium finish with the Ferrari mechanics and also made a couple of media appearances before the day came to an end.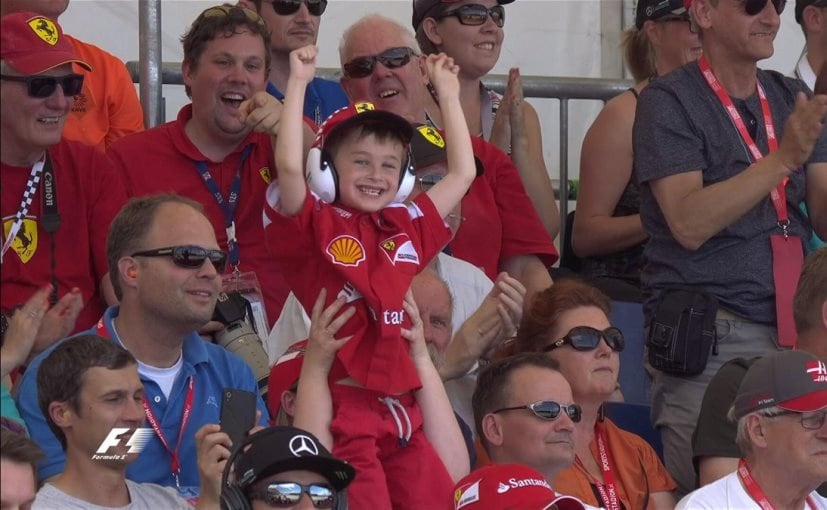 Thomas cheering for Sebastian Vettel later in the race
In a press release circulated by F1 management after the race, the boy's father, Coralie, said, "This has been the most fantastic day for us. We could not believe it when they came to get us and took us to Ferrari. This is great for fans like us, it really makes F1 and all of its people come alive. Brilliant!"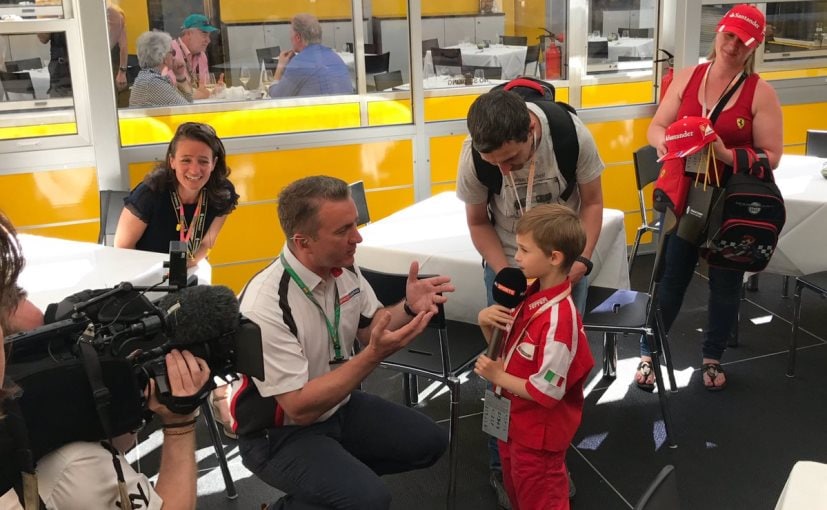 Thomas was the star of the day
Formula 1 is as much about passion as it is about technology and this incident is a stellar example of it. It was a nice gesture by the F1 management to bring the young fan to the paddock and it'll always be a memory Thomas will never forget. In fact, it's small efforts like this one that wins hearts and Thomas managed to breathe in some life into a sport which probably had lost it over the years.
["source-ndtv"]